Are you trying to compare Gravity Forms vs Ninja Forms vs WPForms?
Choosing a form builder plugin can be tricky when there are so many addons and features to consider.
In this article, we'll dive deep to find the important differences between Gravity Forms vs Ninja Forms vs WPForms so you can figure out which one works best for your site.
In This Article
Is There a Free Version of Gravity Forms?
No, there's no free version of Gravity Forms. However, you can get fully functional, free versions of Ninja Forms and WPForms.
If your site is new, or you only need to make a basic form, starting with a free form builder makes more sense than paying for something too complicated right away.
You can start out with WPForms Lite today. It's a free plugin that lets you make totally custom forms. WPForms Lite has more than 5 million active downloads and more than 11,000 5-star reviews!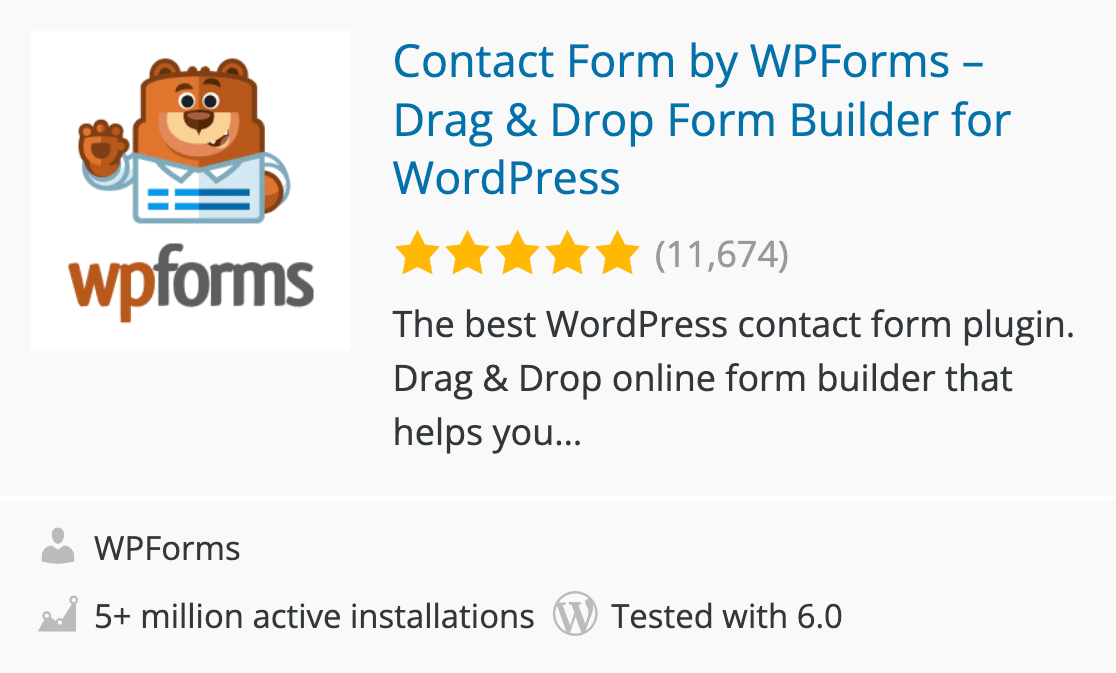 Then, as your WordPress site grows, you can upgrade to the premium version to make:
Contact forms with advanced fields
Forms for popular email marketing services like Mailchimp, MailerLite, and more
ManyChat chatbot subscription forms
Payment forms
Surveys
…and more.
Plus, if you turn on the Lite Connect feature, you'll be able to save your entries from the free plugin and unlock them after you upgrade to WPForms Pro.
Now we know a little bit more about form builders, let's look at these 3 WordPress form builder plugins in detail.
Gravity Forms vs Ninja Forms vs WPForms: Which Is the Best Form Builder?
In this review, we're going to look at each WordPress form plugin on features, ease of use, support, and pricing.
Here's a summary of our findings:
| | Ninja Forms | Gravity Forms | WPForms |
| --- | --- | --- | --- |
| Free version available | Yes | No | Yes – WPForms Lite |
| Pricing | $99+/yr | $59+/yr | $79+/yr |
| Live form preview | Yes | No | Yes |
| Templates included | 17 | No | 400+ |
| Form import tool | Yes – Ninja Forms only | Yes – Gravity Forms only | Yes – Ninja Forms, Pirate Forms, WPForms, Contact Form 7 |
Keep reading to find out how they measure up.
Features
If you need a free contact form for your website, WPForms Lite comes with dozens of customizable, free templates. For advanced forms, it helps to think about the features you'll need before you start to compare plugins.
Gravity Forms Features
If you want to try out Gravity Forms, there's a demo on its website. This isn't the best way to try out a plugin because you can't see how it works with your layout, theme, or existing plugins. The demo just lets you play around with the form builder interface.
With the Gravity Forms Basic license, you can use conditional logic, multi-page forms, and the Basic addons.
The Basic license also gives you most of the same fields that you'll find in WPForms and Ninja Forms, with a few differences. For example, Gravity Forms is missing the star rating field that WPForms has.
This field is handy if you want to collect testimonials from customers.
The form builder in Gravity Forms doesn't have a live preview in the form builder. The interface is started to look a little dated compared to the other 2 form builders in this review.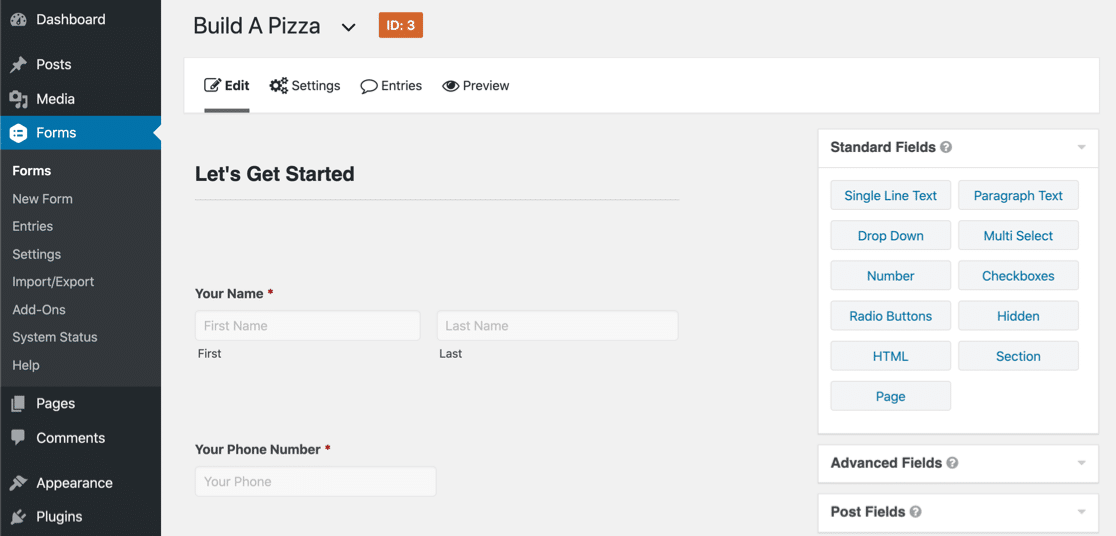 Gravity Forms and Ninja Forms both have basic spam protection, email notifications, and entry storage. If you're having difficulty receiving the notifications, you can check out this tutorial on how to fix Gravity Forms not sending email.
If you want to go directly to Gravity Forms Pro, note that the features are more or less the same as Basic. The main difference is in the addons. If you want to use the payment fields, coupon fields, or create surveys, you'll need to pay for Gravity Forms Elite.
Ninja Forms Features
The Ninja Form form builder shows you what your finished form will look like as you work. All form fields are available in the free version of Ninja Forms, so the paid licenses generally unlock addons and integrations.
It's also worth checking that the fields work the way you expect. For example, the address field is primarily designed for US addresses. You can customize this manually. But there's no way to quickly change the address scheme.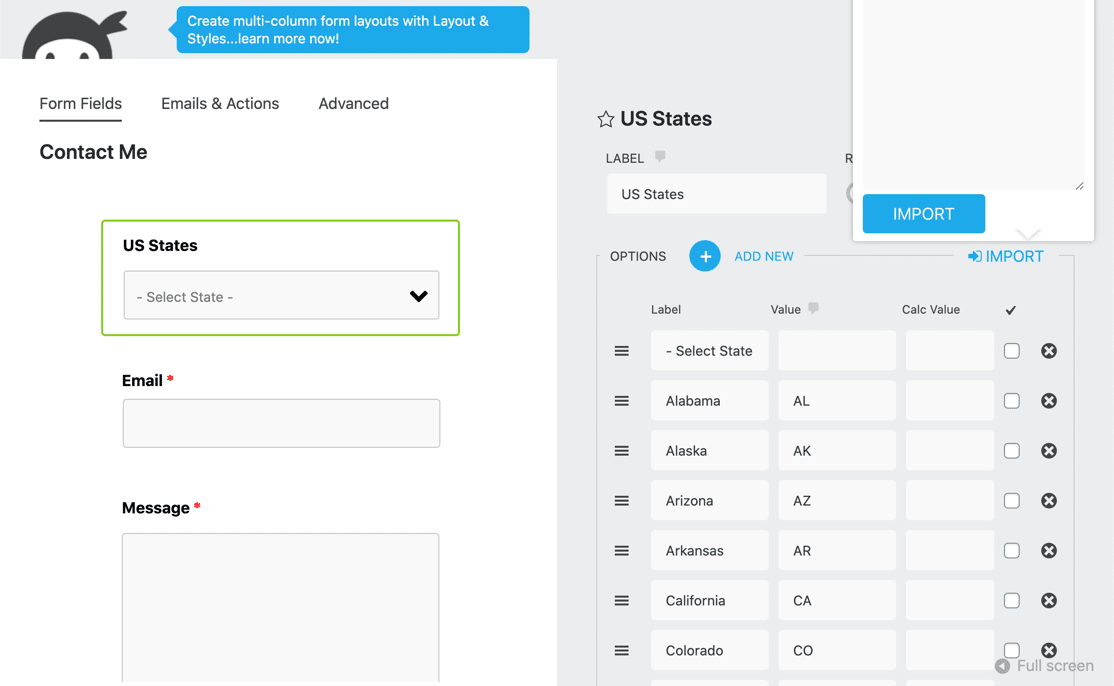 You can add spam protection to your forms. Ninja Forms supports some types of Google reCaptcha, but not the latest reCaptcha v3. It's also missing advanced features for surveys and polls, which both of the other contact form plugins have.
If you want to change the layout of your fields, you will need to write your own CSS, or pay for a $49 addon.
WPForms Features
WPForms Pro is the best value form builder plugin. It's super easy for beginners to use, and it lets you build any type of WordPress form.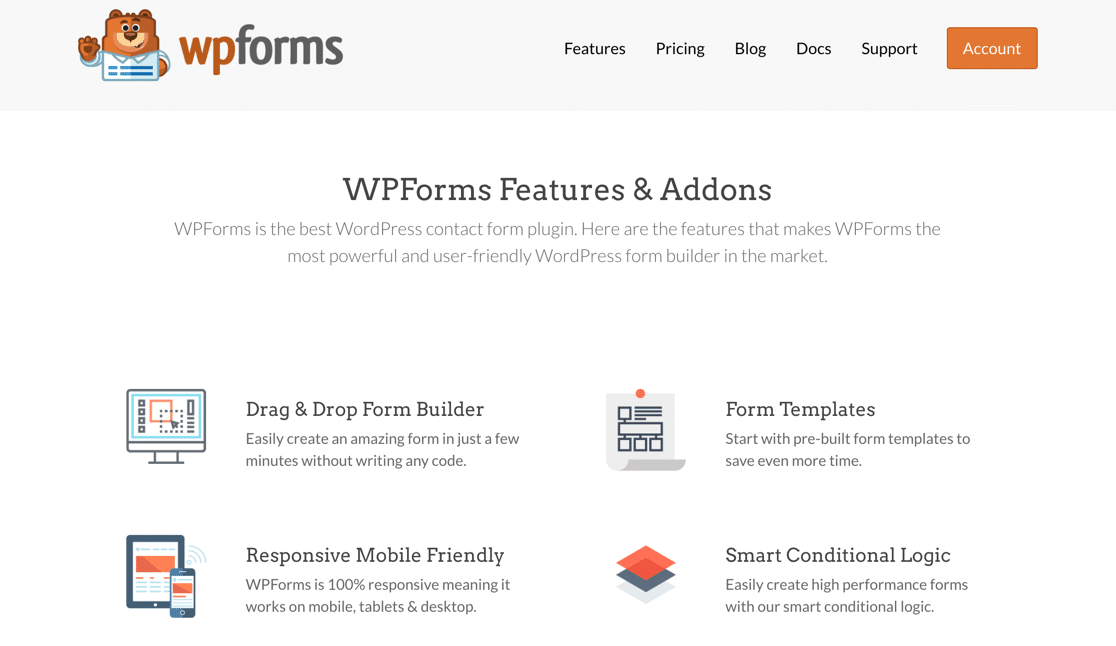 With WPForms Pro, you get all of these great features:
There are also tons of easy ways to customize your forms. For example, you can quickly choose a field size using a dropdown in the form builder.
The layout buttons make it easy to position fields in columns without writing code.

When you're done, you can embed your forms anywhere on your website using a block or shortcode.
You can place your forms in 4 places:
On a page
In a post
In the sidebar
In the footer.
Just click the Embed button to add your form to any page on your site.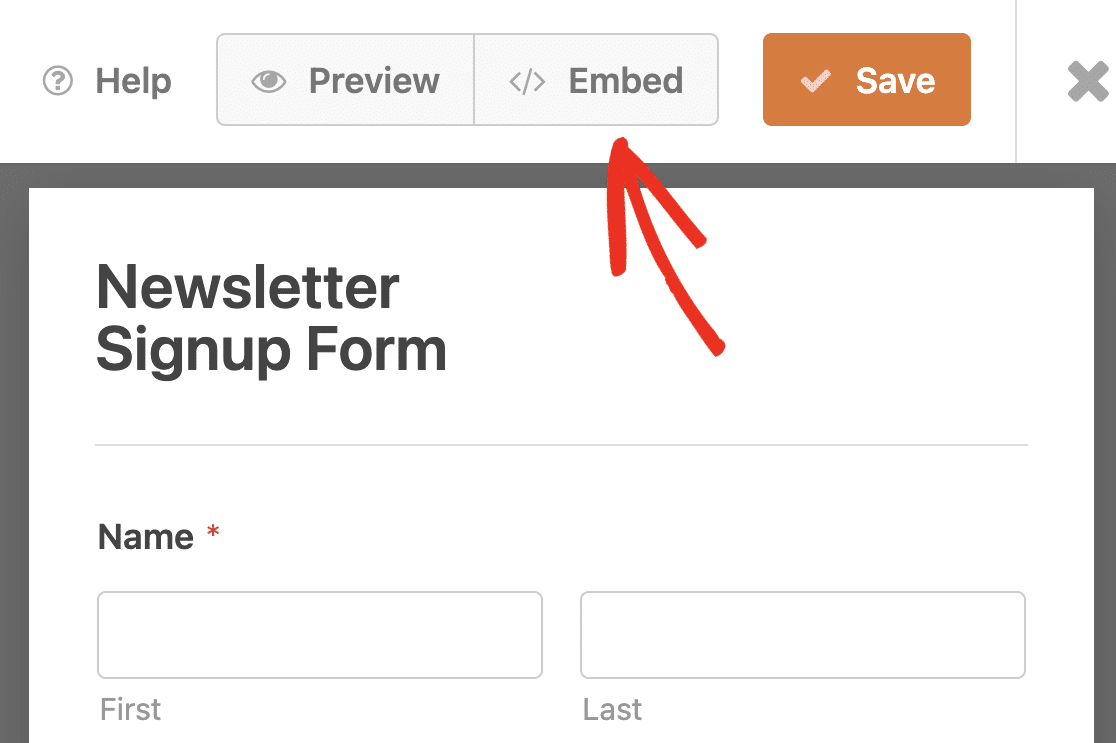 You can keep track of where you've published each of your forms by checking the locations on the All Forms page.

WPForms is the only form builder in our list that has:
That makes WPForms worth it if you're using a page builder to make your site layout.
Form Submissions
WPForms has by far the best features for managing form submissions.
Any paid version stores entries in the WordPress dashboard. And from this screen, you get a lot of control over your form submissions.

You can star entries, mark them unread or read, export them, and even filter entries to get a better overview.
Clicking on an entry opens up a more detailed view.
Here's a simple contact form entry: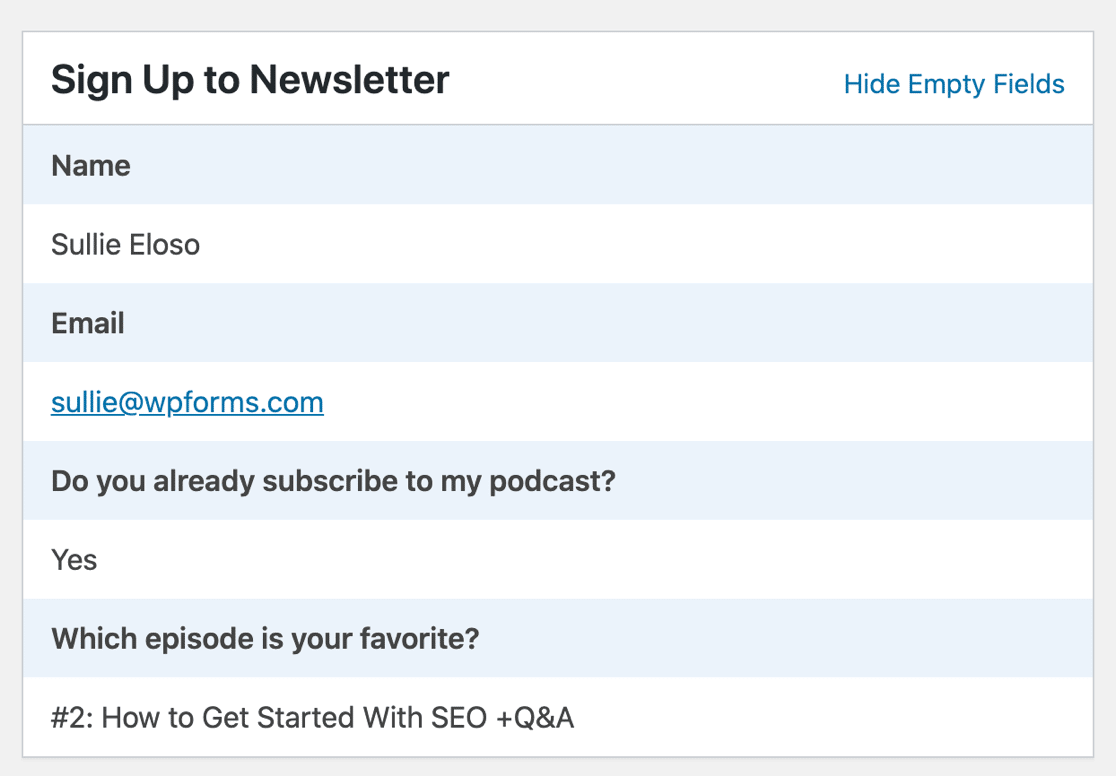 And if you turn on survey reporting, the backend turns into a full survey platform.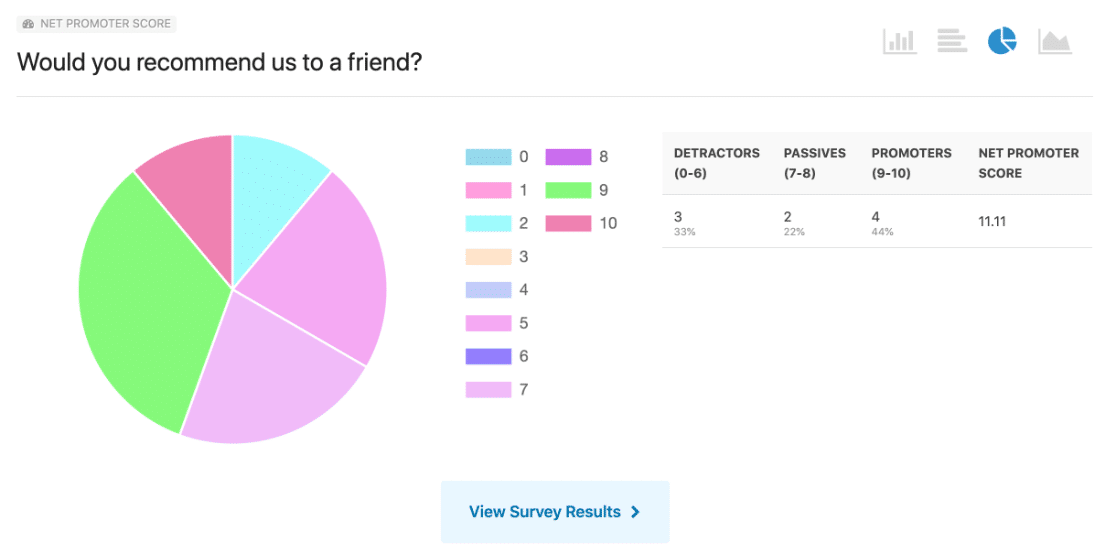 This is the most user-friendly way to review your submissions easily in 1 place.
Ease of Use
All of these form builders use a browser interface to build a form. However, the form builders are slightly different in the way they work. Let's check out the user interface in each plugin.
Gravity Forms Ease of Use
The Gravity Forms builder opens inside the WordPress interface. This means that you have less space to work in Gravity Forms vs Ninja Forms or WPForms.
The way you edit form fields in Gravity Forms is also different. When you click the field, all of the options drop down below it, not to the side.
You'll need to scroll up and down a lot while customizing the fields and working on your form. That makes it feel quite awkward.
If you have a small monitor, be sure to check out the Gravity Forms demo to see if this layout works for you.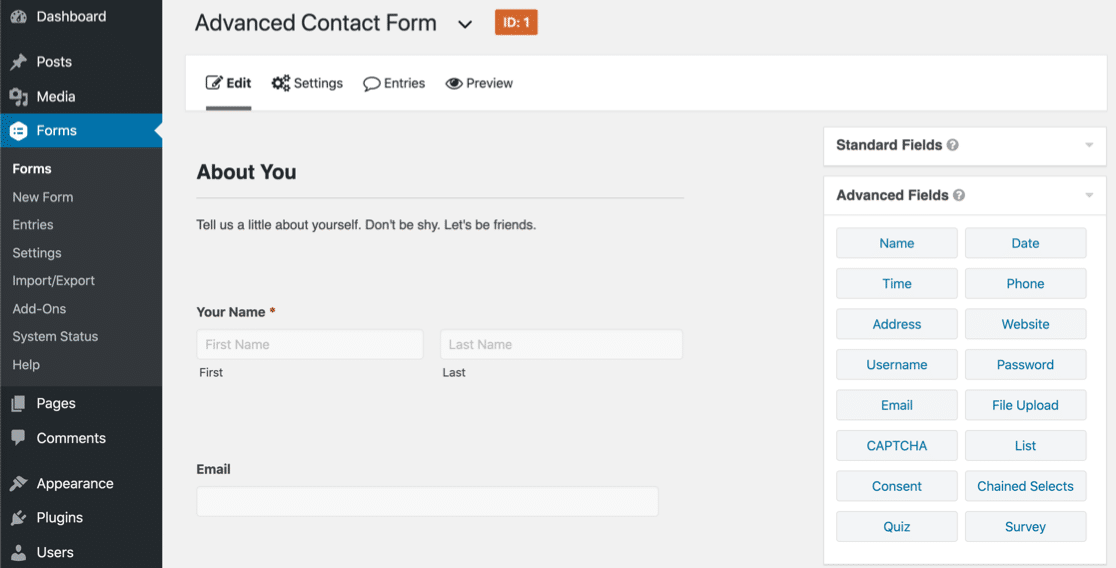 There's also no live preview in this form builder. You'll have to preview the form by clicking the Preview button, which opens up a separate window. This doesn't usually inherit the styling of your main site, so it's challenging to actually see what your finished form will look like on your WordPress website.
Ninja Forms Ease of Use
The Ninja Forms builder fills the whole screen when you open it. It's a lot more minimal than Gravity Forms, but there's still quite a lot of unused space.
To add a field,  click the plus icon at the bottom right.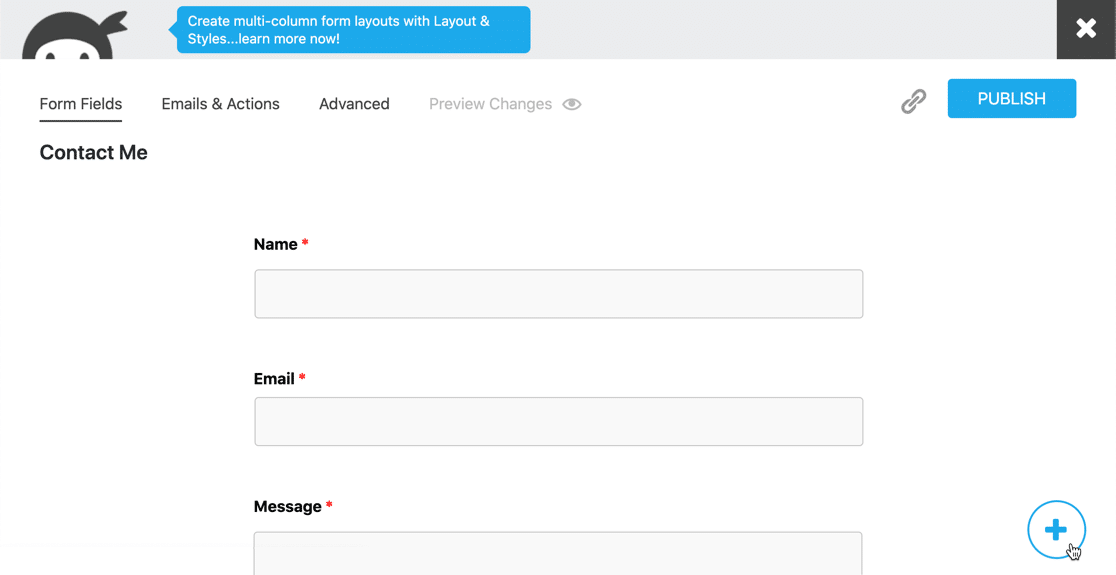 You can drag the field onto your form and customize it. When you're finished, click the Done button, and the right-hand pane closes. You can then click the plus icon again to add your next field.
If you're building a long form, this process adds a lot of extra clicks because you have to repeatedly open and close the fields to drag them. WPForms lets you see the form and the fields at the same time.
By default, most customizations are hidden until you turn on Dev Mode in the settings. If you don't do this, you won't be able to access the most important settings.

WPForms Ease of Use
WPForms is the easiest form builder for beginners.
To build a form, you can pick a template and then customize it, which really helps to speed things up.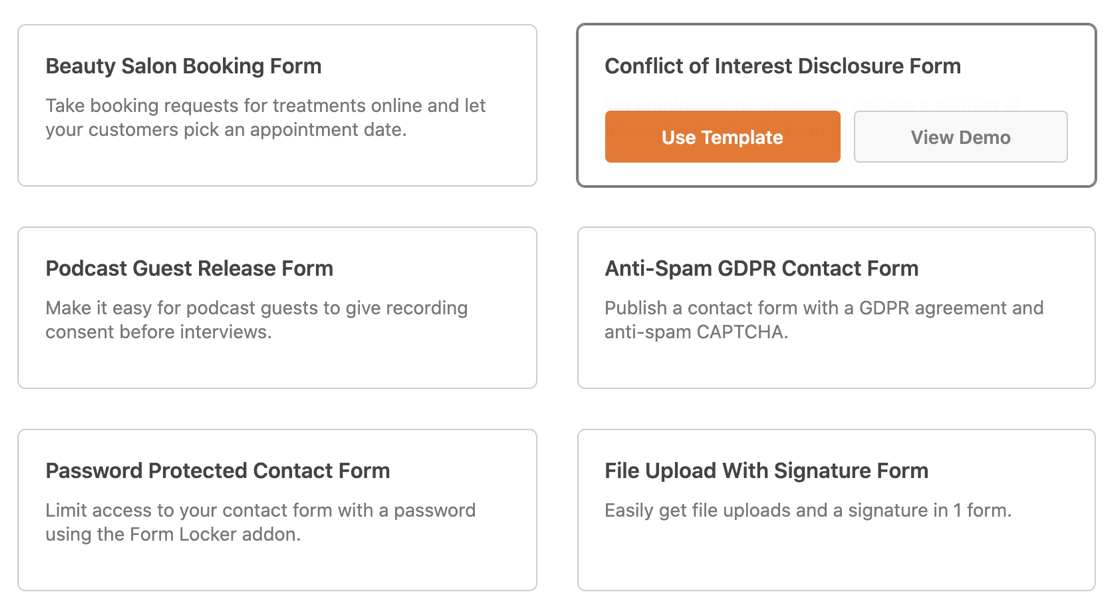 The WPForms builder pops out into a fullscreen window so you have tons of space to work in. Even on a small monitor, you can see your form preview all the time without opening up a separate preview page.
Creating forms with WPForms is super easy. To build a form, just drag and drop fields from the left-hand pane to the right-hand pane. Click on the field to customize it.
Check out how easy it is to add a payment field: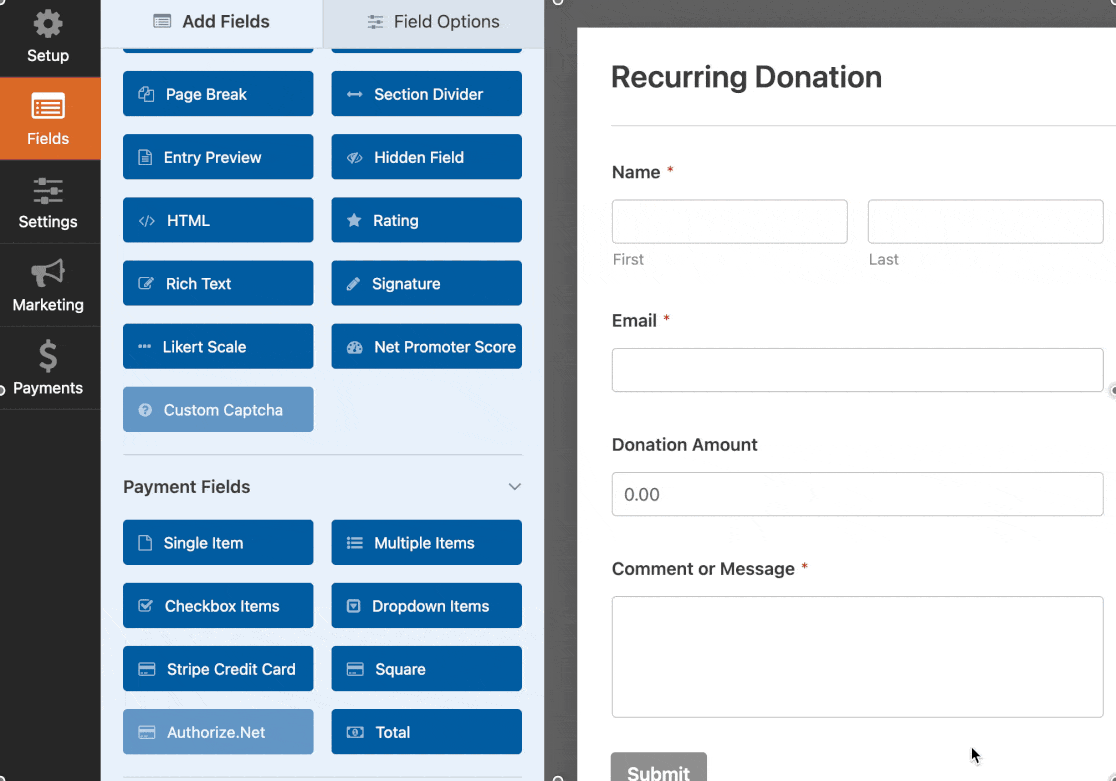 You can use the left-hand pane to set up your defaults, placeholders, or your matrix question answer choices.
When you're done, it's really easy to embed your form on your website without using any code. If you'd like help creating your first form in WPForms, check out this article on how to create a contact form in WordPress.
Support: Gravity Forms vs Ninja Forms & WPForms
Support is vital when your form isn't working the way you expect. But when we compare Gravity Forms vs Ninja Forms vs WPForms, which support will suit you best?
Gravity Forms Support
Gravity Forms has an FAQ page on its website along with documentation for all fields, addons, and features.
It provides support via tickets to paying customers Monday-Friday, 9 am to 6 pm EST. Elite license holders get priority support.
The team doesn't support 3rd party templates or addons. There are 9 official templates that you can download as individual .json files and import manually.
If you're having difficulty with Gravity Form notifications, we have some easy solutions in this article on Gravity Forms not sending email.
Ninja Forms Support
Ninja Forms offers support within 24 hours for free users or priority support for paying customers.
It has documentation covering all features in the plugin. Information about tools in Dev Mode is hidden behind dropdowns on the documentation pages.
Check out our email delivery tips if Ninja Forms is not sending email.
WPForms Support
WPForms has 3 online help resources: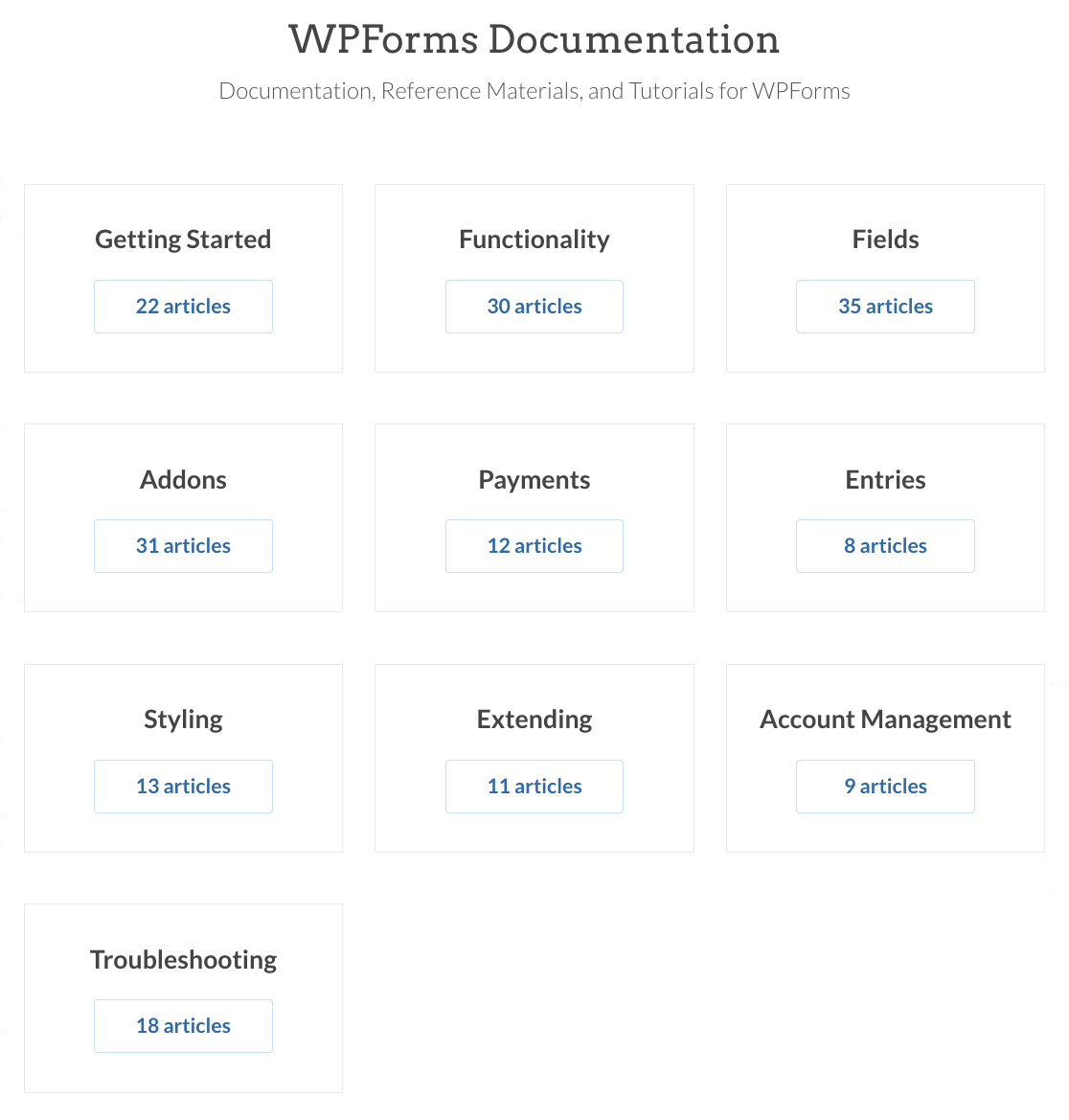 WPForms Lite users get free support in the WPForms Lite forum.
Users for any paid version of WPForms can send a support ticket to get help. Support tickets are answered Monday-Friday, 9 am-5 pm EST. The team usually responds to all tickets within 24 hours.
WPForms also has a helpful user community on Facebook called the VIP Circle and tons of helpful tutorials on YouTube.
Pricing: Gravity Forms vs Ninja Forms vs WPForms
You can spend up to $499 on a form builder plugin, depending on what you need to do.
Let's look at some typical forms you might want to make along with a typical price.
| | Ninja Forms | Gravity Forms | WPForms |
| --- | --- | --- | --- |
| Contact form | Free | $59/ yr | Free |
| Constant Contact signup form | $99/yr | $59/yr | Free |
| Mailchimp signup form | $99/yr | $59/yr | $79/yr |
| Drip lead capture form | $199/yr plus Zapier subscription | $159/yr plus Zapier subscription | $199/yr |
To understand this better, we need to look at how pricing works for each plugin.
Gravity Forms Pricing
There's no free version of Gravity Forms, but there is a demo you can use to try out all of the functionality before you buy. You can't install it and try it out on your own server.
To install Gravity Forms on your website, you'll need to pay for an annual subscription:
The Basic license is suitable for 1 website and costs $59/ year. This gives you all fields and most of the mailing list addons.
The Pro license costs $159 a year for 3 sites. It adds integrations for services like Zapier, Slack, and FreshBooks.
An Elite license costs $259 a year for unlimited sites. It adds Stripe fields, polls, and user registration forms.
The Elite license also has survey tools similar to SurveyMonkey. You can create different types of surveys easily and display the results in the dashboard.
Ninja Forms Pricing
The Ninja Forms plugin has the most complicated pricing of all 3 plugins.
You can pay for individual addon annually, or buy an annual membership.
There are up to 3 different prices for each addon, depending on the number of sites you have. There are also 3 different annual licenses priced at $99-$499.
| Ninja Forms Addon | 1 site | 5 sites | 20 sites | Included in plan? |
| --- | --- | --- | --- | --- |
| Conditional logic | $49 | $72 | $99 | Personal, Professional, Agency |
| Multi-step forms | $49 | $72 | $99 | Personal, Professional, Agency |
| File upload fields | $49 | $72 | $99 | Personal, Professional, Agency |
| Export to Excel | $18 | $28 | $46 | Agency |
| PayPal | $49 | $79 | $129 | Personal, Professional, Agency |
| Stripe | $49 | $79 | $129 | Professional, Agency |
| Constant Contact | $18 | $28 | $46 | Personal, Professional, Agency |
| User submitted posts | $39 | $62 | $99 | Professional, Agency |
If you just need 1 addon, this pricing will make sense for you. If you need more than 1, you'll want to sit down and figure out the best plan that includes all (or most) of the addons you need.
WPForms Pricing
There are 4 paid WPForms licenses:
Basic, which gives you templates, multi-page forms, file uploads, and conditional logic
Plus, which adds support for most mailing list providers like Mailchimp, plus 100s more templates
Pro, which adds almost all of the other features and addons
Elite, which adds specialized features like webhooks, and usage on unlimited sites.
If you want to see exactly what is included, check out this comparison chart of WPForms features.
In the free version, you can:
Try all of the basic fields
Use form templates
Get entries by email.
It's really easy to start with WPForms Lite. You can easily upgrade to WPForms Pro later when you need more features.
Remember! When you buy any WPForms license, it comes with an unconditional 14-day money-back guarantee. You can try it out and see if it's right for you. If it's not, just ask for a refund. You don't even need to give a reason.

Which Is the Best Form Builder? Gravity Forms vs Ninja Forms vs WPForms
WPForms is the best form builder for WordPress.
Here's why:
The fullscreen form editor makes it really easy to make and publish any type of form
There are more than 400 templates that can be installed with 1 click
You can preview forms as you make them
You can publish forms on your website without using any code
It's easy to connect your forms to other of services using WPForms addons
There's tons of free help available via YouTube, Facebook, and the WPForms website.
Don't forget: WPForms is the only form plugin we looked at that can import forms from other plugins, including Ninja Forms.
And that's it! Now you know the pros and cons of Gravity Forms vs Ninja Forms vs WPForms.
Create Your First WordPress Form Now
Next, Compare More Form Builder Plugins
If you're still undecided, read our comparisons of:
Ready to build your form? Get started today with the easiest WordPress form builder plugin. WPForms Pro includes 400+ templates and offers a 14-day money-back guarantee.
If this article helped you out, please follow us on Facebook and Twitter for more free WordPress tutorials and guides.
Source: https://wpforms.com/gravity-forms-vs-ninja-forms-vs-wpforms/