Gravity Forms is one of the most popular and probably the best plugins to create advanced WordPress forms for your site with. In this post, I will cover some of the best Gravity Forms addons that allow you to take your forms to the next level.
It will cover certified add ons (originally released by Gravity Forms), and some third-party addons. Gravity Forms plugin is nicely configurable, powerful, and rather easy to use.
Gravity Forms provides its own range of addons, but if you have the time and inclination, it's worth trying some of the unofficial ones too.
Gravity Forms generates high-quality contact forms for marketing and data collection purposes. It's popular with WordPress users, many of whom use the tool in combination with CRM email marketing modules.
Gravity Forms Official Addons
The easiest way to get access to Gravity Forms and all its certified addons is to pay for top tier pricing plan.
The Gravity Forms Elite license includes all the official add-ons. However, if you are on the Basic or Pro license, you can upgrade at any time to gain access to all the official add-ons.
Once you purchase a Basic, Pro, or Elite License, you get immediate access to Basic Add-ons that help you to integrate Gravity Forms with a couple of email marketing providers.
Those marketing providers include ActiveCampaign, MailChimp, Mad Mimi, AWeber, Constant Contact, and a few other email marketing services.
1. GRAVITY FORMS BASIC PLAN ADDONS:
Other than integration with email marketing providers, Gravity Forms does not offer any other add-on for the Basic license, which costs $59 per year for one site with automatic updates and standard support.
ActiveCampaign
AWeber
Campaign Monitor
CleverReach
Emma
GetResponse

iContact
Mad Mimi
MailChimp
Mailgun
Postmark
SendGrid
---
2. GRAVITY FORMS PRO PLAN ADDONS (also includes addons from the basic plan):
On top of Basic Add-ons, you get 16 more add-ons that will add even more options and features to your Gravity Forms usage.
Agile CRM
Batchbook
Breeze
Campfire
Capsule CRM
Dropbox
Freshbooks
Help Scout

Highrise
PayPal Payments Standard
Pipe Video Recording
Slack
Trello
Twilio
Zapier
Zoho CRM
You can integrate Gravity Forms with Zapier which opens up a world of customization opportunities. Using Zapier, you can create integrated app combinations from a thousand different web applications.
This allows you to take the 'middleman' out of most content building and marketing processes. You can go from market research to email campaign analytics with minimal or no intervention.
Secondly, you have PayPal Payments Standard, which means good things if you'd like to add payment gateway to WordPress forms.
You also get other add-ons such as Agile CRM, Dropbox, Slack, Trello, Help Scout, Campfire, Breeze, Pipe Video Recording, and Highrise, among others.
The Pro License costs $159 per year for three websites with automatic updates and standard support.
---
3. GRAVITY FORMS ELITE PLAN ADDONS (include all previous add-ons plus):
Elite License gives you an extra 14 add-ons such as 2Checkout, Authorize.net, Coupons, Partial Entries, Surveys, Polls, user registration, and webhooks.
2Checkout
Advanced Post Creation
Authorize.net
Chained Selects
Coupons
Partial Entries
PayPal Payments Pro

Polls
Quiz
Signature
Stripe
Survey
User Registration
Webhooks
The Elite License is priced $259 per year, and you can use it on an unlimited number of sites for one year.
Which Are Best Gravity Forms Addons From Third-party Sites?
For such a powerful and popular form building plugin, you can expect plenty of free and premium add-ons. The upside of this is you don't have to spend time and money finding ways to build extra features into your WordPress site. It can be done in a matter of minutes.
But why are the add-ons even necessary if Gravity Forms form builder plugin is already powerful a solution? Add-ons provide deeper integration with WordPress as you can integrate with 3rd-party service providers, email softwares, CRM, helpdesk tools, etc.
Add-ons usually come with additional features that are not initially part of Gravity Forms. Add-ons save you a lot of time and money since you don't have to hire developer to add every extra feature you need.
My picks for the best Gravity Forms add-ons touch on several areas including payment processing, form styling, customer relationship management, security, etc., meaning you can extend Gravity Forms beyond your wildest imaginations.
Here is a big list of third party addons from official Gravity Forms site sorted by what features they bring.
Best Paid Gravity Forms Add-ons
Here are some of the best Gravity Forms addons you can find from third-party sites for which you will need to pay:
1. GRAVITY EXTRA ADDONS
The important thing to understand about Gravity Extra is it's not a single add on. It's a bundle of Gravity Forms addons (over thirty, in fact).
All add ons are modular, so you're free only to use the ones you want. You don't need to install features you will not use and fill your WordPress site with unnecessary code.
Some of the addons are minor; they do small things like limit word count in certain boxes. Others add-ons are a bit more sophisticated; some create fields for discounts, tax, etc.
It's the best way to experience everything the plugin has to offer. With Gravity Extra, you can improve and manage all aspects of your forms.
Some of the Gravity Extra addons include:
Premium GF Klaviyo Integration – Integrate GravityForms with Klaviyo with ease and amazing features.
Premium GF Autocomplete Field – Add an advanced autocomplete field to your project's form easily.
Premium GF Google Calendar Integration – Integrate GravityForms with Google Calendar easily.
Premium GF RazorSync Integration – Integrate GravityForms with RazorSync easily.
Premium GF OnePageCRM Integration – Integrate GravityForms with OnePageCRM easily.
Premium GF AutoConvert Integraton – Integrate GravityForms with AutoConvert easily.
Premium GF International Phone Number Mask Input – Enhance GF phone field to become international mask input easily.
Premium Auto Populate Country/State/City/Ward – Add an auto populate field for Country/State/City/Ward easily.
Premium GF Close CRM Integration – Integrate GravityForms with Close CRM easily.
Premium GF PaymentWall Integration – Integrate GravityForms with PaymentWall easily.
2. JETSLOTH GRAVITY FORMS ADDONS
JetSloth offers five Gravity Forms addons which you can purchase separately or in a bundle. I will mention only a few.
— Gravity Forms Image Choices
With the Image Choices addon, you no longer need to put HTML in contact form labels to include images. Instead, you can use a WordPress-like UI and media upload tool to make selecting and inserting images easy.
The benefit is you can swap lengthy text descriptions for a clear, engaging image. Image Choices works on a quiz, checkbox, survey, radio, poll, and product fields.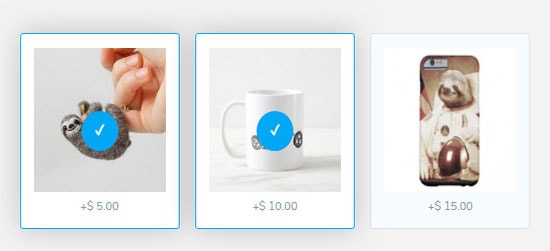 — Bulk Actions for Gravity Forms
Editing lengthy contact forms can be a tedious task. Bulk Actions makes it easier and faster by adding a WordPress-like UI to simplify basic editing actions.
Need to delete a large amount of fields quickly in Gravity Forms? Bulk Actions for Gravity Forms allows you to multi-select all the fields you want to remove, and delete all the unwanted fields in your form.
Want to duplicate fields? Select any number of form fields, click the clone or duplicate button and you will duplicate any number of form fields within your form. More from Jetsloth include Gravity Forms Color Picker, Gravity Forms Collapsible Sections, and Gravity Forms Bulk Add.
3. GRAVITY FORMS PRODUCT ADD-ONS
This extension provides more control over the presentation of prices in online stores. It also allows you to choose what happens with (integrated) automatic price calculations. If you don't want to show them, you don't have to.
It can create sophisticated product configuration forms and connect them to any WooCommerce product. When a product connected to a Gravity Form gets detected in an online cart, it is tracked to prevent complex forms from being inputted incorrectly.
For instance, it makes sure duplicates are added according to basic quantity rules and allows only unique configurations into the cart.
There are tools to include everything from user input prices, conditional submit button logic, conditional logic, pricing fields, and more in product forms on your website.
4. ADDONS FOR GRAVITY FORMS FROM WISDMLABS
Here are two great addons for Gravity Forms from WisdmLabs:
— Gravity Forms to PDF Auto-Fill Solution
The whole point of getting users to fill out contact forms is to open up channels of communication. So, it's important to let them know their forms have been successfully submitted and received. Often, there are too many users to send out updates manually.
However, with the PDF Auto Fill add on, you can create automated responses to get sent out to users whenever a form is submitted. The plugin takes information entered into a form and uses it to make a PDF copy that gets sent automatically after submission.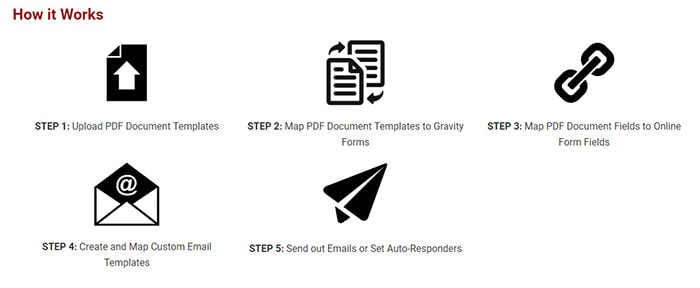 To make it work, take a contact form and duplicate it as a PDF. The form fields in both should be the same. Give the PDF file the same name as the form.
Now, upload and publish it using the Auto-Fill tool. Alternatively, use the email template by inputting a custom memo for your users and their email addresses. The plugin will automatically send out a custom response as a PDF attachment every time a form is submitted.
Word Auto-Fill Solution captures information in forms and turns it into a Word file. The file can then be sent as an email attachment.
It means less time manually configuring emails as Word Auto-Fill Solution automates the process. All you need to do is map a Word document to your form fields.
Like the PDF Auto-Fill plugin, Word Auto-Fill Solution can help you save time and avoid some of the more tedious aspects of site-building.
There is no limit on the number of Word documents that can be mapped in this way. Each time a form is completed, an associated Word file is created.
The plugin includes many options to upload unlimited Word document templates, map your templates to forms (so each time a Gravity Form is filled, associated documents are generated), generate documents on the fly on Gravity Form submission, and then downloaded, emailed or regenerate docs as needed.
5. GRAVITYVIEW
Gravity View turns designated form fields into presentable uploads for your website. It's a simple tool to use because GravityView handles the whole process.
It's an easy way to display relevant information (event listings, profiles, stats, etc.) on your site without making code changes. With GravityView, you can take your Gravity Forms data and then display it on your site, using one of the pre-defined templates.

These templates allow you to turn that data into things like staff profiles, resumes, job board, event listings, etc.
Also, to make the complete process quicker for you (both the data collection process and then the displaying of the data), you don't even need to create a form via Gravity Forms.
GravityView does that for you as well.
6. GRAVITY FORMS ADDONS ON CODECANYON
There is a vast number of addons for Gravity Forms on Codecanyon. I will mention few of them:
— gAppointments – Appointment booking addon for Gravity Forms
Schedule appointments within Gravity Forms. gAppointments is excellent for any business that depends on an appointment calendar.
— Gravity Forms Auto Complete
This plugin is an add-on for Gravity Forms that enables a field autocomplete feature. Whenever a user types in a form field, they get an automated suggestion for the rest of the entry. Not all sites prefer to use this feature.
Nevertheless, it can be a clever way to speed up the form filling process and reduce the risk of users abandoning it.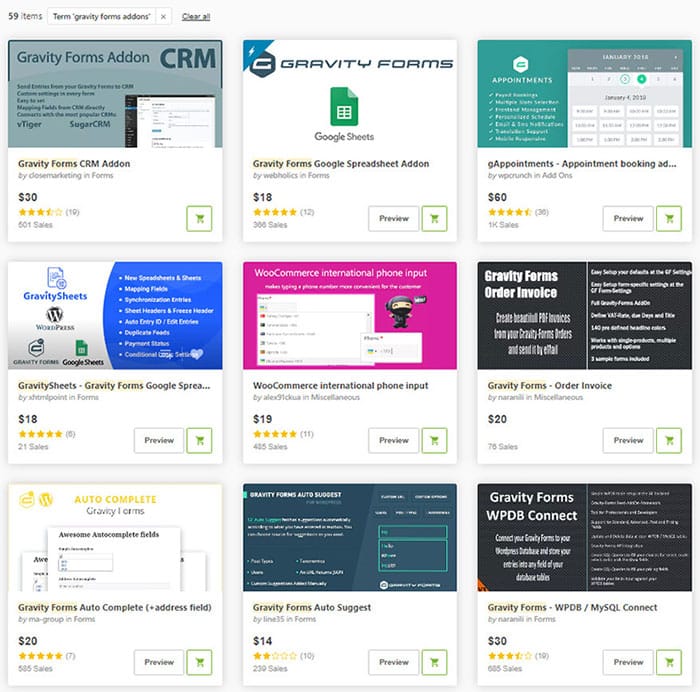 — Gravity Forms Google Spreadsheet Addon
Add your Gravity Forms data to Google Spreadsheets whenever the user submits a form on your site. Every time a form is completed, the Google Spreadsheet add on takes its information and inputs it into a spreadsheet file.
All details are presented as a new section in your designated Google file. There is no limit on the number of forms that can be mapped in this way. The addon can be configured in such a way as to only add certain types of data or specific form fields.
Are There Any Free Gravity Forms Addons?
In the WordPress repository, you can also find free addons for Gravity Forms. There are not many, and they don't bring as many features as paid options, but they might be just what you need.
— Event Tracking for Gravity Forms (Free)
If you want to add event tracking to your website Gravity Forms forms, you'll find Event Tracking for Gravity Forms add-on right tool for the job.
You can add event tracking to your Gravity Forms using Google Analytics, Google Tag Manager, and Matomo (formerly Piwik).
You can also track form pagination, set up conditional logic for multiple events, create custom event categories, actions, labels, and values. Further, you can set dynamic event values on payment forms, etc.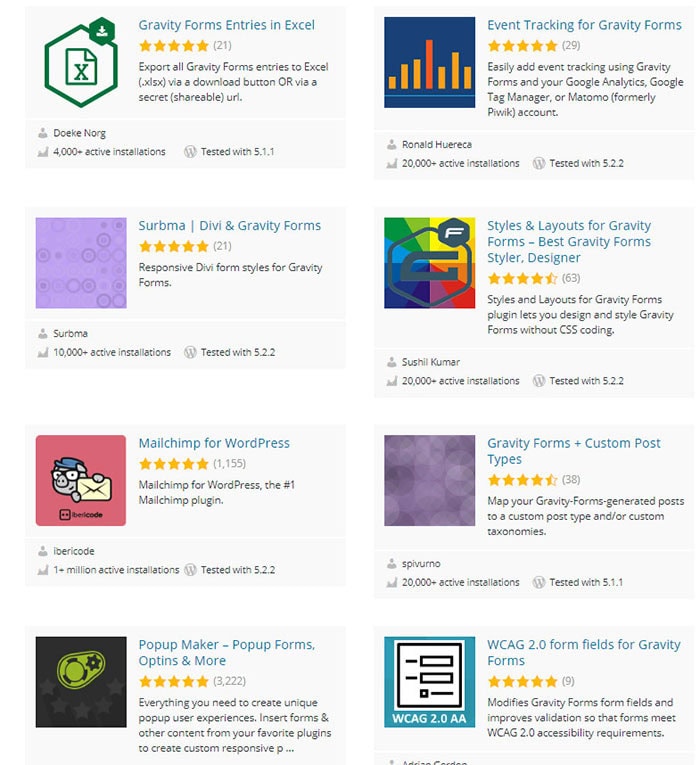 If you run a service-based operation and would like to generate PDF order forms from the data users submit on your forms or create print appointment sheets, you can use this Gravity PDF addon.
Free and Paid Addons For Gravity Forms Final Words
Gravity Forms is already one of the most popular and best premium plugins for WordPress. By using the mentioned free and premium add-ons, you can further enhance it to meet your needs even more effectively.
You can insert Gravity Forms using shortcode manually, using  "Add Form" button if you are using Classic editor or using Gutenberg block.
The number of possibilities Gravity Forms and its addon provides are many. It is up to you how you will use them to improve your website and business. If you are interested in what kind of forms you can create, then check benefits of using WordPress form builder.
WPForms is another popular form builder plugin. I have compared Gravity Forms vs WPForms so be sure to check that comparison if you like to see differences between those two.
Source: https://www.kasareviews.com/best-gravity-forms-addons-free-paid/